​

Shachar Meron

Lecturer, Advertising at the University of Illinois at Urbana-Champaign, USA

Shachar teaches Advertising strategy, creativity and campaigns at the University of Illinois at Urbana-Champaign (UIUC). His primary focus is 'The Sandage Project', the Department's capstone course that all seniors take before graduating. Before life as a lecturer, Shachar worked for 12 years as a creative director, brand strategist and copywriter in Chicago. His clients included Boeing, Johnson & Johnson, Motorola, Nordstrom, Cars.com, TransUnion and Abbott Labs, as well as dozens of startup and early-stage companies. Along the way Shachar co-founded and co-ran BatesMeron Design, an indie agency focused on branding and marketing, where he helped grow the business to 30 clients and $1m in billings. He also founded Redacted, which became Chicago's largest copywriter association in its first year.



Powered by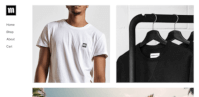 Create your own unique website with customizable templates.